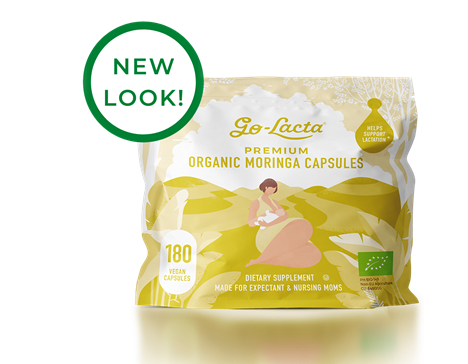 Go-Lacta Premium Organic Moringa Capsules (180)
100% organic. 100% raw. 100% pure.
500 mg vegan capsules packed with 100% premium Moringa leaves.
A single-ingredient supplement rich in nutrients while providing expectant and nursing moms the path to producing breast milk for their babies.
No blends. No chemical process. No extraction.
For prenatal care, take 2 capsules twice a day on your 36th week of pregnancy to boost your breast milk supply soon as you deliver baby.
For postpartum care, take 2 capsules, one to three times a day. You may increase or decrease the dose depending on your desired milk supply*.
*"These statements have not been evaluated by the Food and Drug Administration. This product is not intended to diagnose, treat, cure, or prevent any disease."
Ingredients: 100% pure, powdered Moringa leaves, vegetable cellulose capsules
We are internationally organic certified by reputable organizations: USDA, EU Control Union Certifications and Japanese Organic Certification, ensuring product safety and quality for our customers.
Email Someone This Product
---
Share this Product