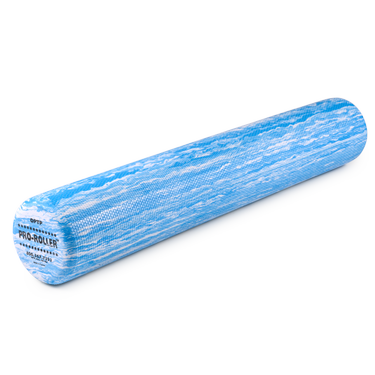 OPTP PRO-ROLLER Blue Marble - Round 36"x6"
Professional-quality foam rollers designed for heavy and repeated use in multi-user environments. EVA foam construction outlasts and outperforms open-cell and non-EVA foams.
Created for the demands of physical therapy and sports medicine clinics, or the busy Pilates and yoga studios, the OPTP PRO-ROLLER™ is built to outperform and outlast store model foam rollers. The closed-cell, heat-molded EVA foam technology won't break down, while improving sanitary conditions with easy cleaning between patients or clients.

Use the OPTP PRO-ROLLER for proprioceptive exercise in balance and stability or to roll out trigger points, knots and areas of increased muscle density. Ideal for use in applying sweeping strokes to the long muscle groups like the calves, adductors, and quadriceps, as well as small, directed force to areas like the TFL, IT Band, hip rotators, and gluteus medius.

The durable OPTP PRO-ROLLER can be easily cleaned with a disinfecting wipe, or a wet cloth with mild dishwashing or laundry detergent.
36" x 6" round PRO-ROLLERs are ideal for myofascial release to roll away muscle soreness. They offer an unstable surface to enhance balance and proprioception exercises.
Email Someone This Product
---
Share this Product